How to Win at Collaboration in a Spread-Out World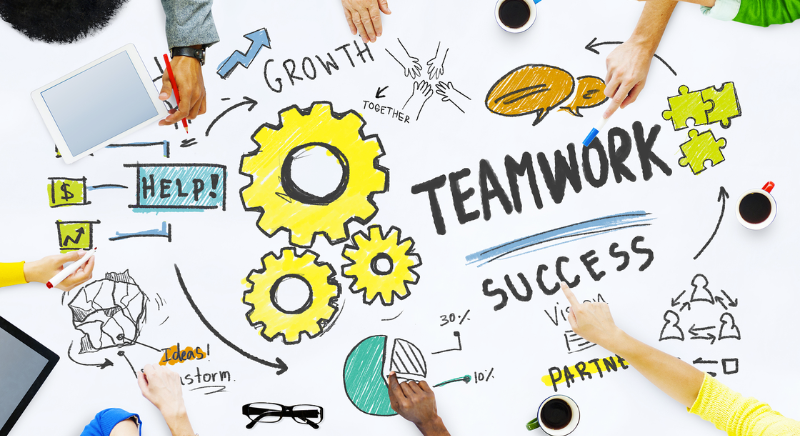 Collaboration can be the secret sauce that takes your company to the next level. Effective collaboration can innovate your design work, your marketing campaigns, your product offerings and your customer experience.
The challenge in today's freelance-driven, global work environment is facilitating collaboration over time zones, area codes and even language barriers.  According to Telework Research Network, between 2005 and 2011, the number of remote workers climbed 60% from 1.5 million to 2.4 million. You can imagine that post-pandemic, the remote working trend is continuing upwards. Here are some facts:
27% of U.S. employees work remotely as of 2023.
There are expected to be 36.2 million American employees working remotely by 2025.
40% of workers believe they've been more productive while working at home during the pandemic, as opposed to the office.
16% of U.S. companies are fully remote.
Remote jobs now make up 15% of work opportunities in the US.
Source: Zippia. "25 Trending Remote Work Statistics [2023]: Facts, Trends, And Projections" Zippia.com. Jun. 13, 2023, 
With these types of stats, it's easy to see that you need to focus on collaboration to achieve success.  Collaboration brings people together, helps us problem solve, and opens new channels of communication. But how do we ge there?
Collaboration Tips To Help You Succeed
Make sure everyone is on the same page. This should be done at macro and micro level. Everyone in your organization should know your values and have a sense of company culture.  On a project level, it's the same. To understand the end result, your team can work toward a singular goal. Imagine one of your team members needing to make a decision without the benefits of advance discussion. Will they be informed enough to sync with the project?
Anticipate some bumps in the road. It will serve you well to stay flexible and know that there will be some conflict. Teams always comprise various people with different habits, attitudes and motivations. Be sure to set expectations, communicate often, and praise freely.
You can still knock on doors remotely. Trying to schedule meetings with remote teams can be challenging. The option to knock on a co-worker's door for an impromptu meeting can still exist with tech tools such as Slack, Skype or HipChat. "Knock, knock – you have a second to discuss a new idea?" is still possible, even if it happens via a computer screen. If set up properly, these tools can help you avoid waiting days for meeting time slots and facilitate casual interactions that can lead to great collaborative idea flow.
Cultivate a culture to foster collaboration. Any list of collaboration tips has to address culture. Culture, team spirit and comradery will help facilitate successful collaboration, whether the workforce is remote or sharing the same space. Although developing cultures in teams that are spread out may pose some challenges, many companies are finding creative ways to overcome boundaries through technology and onsite events that support a strong culture and collaboration.
Set up a location that works. When your team is meeting in an off-campus location or if your home office is basically a dining room, but you need to collaborate with a client, a meeting room at a local executive suite can provide the perfect solution. Crown Center Executive Suites offers professional meeting rooms and training rooms that can be utilized for many purposes with all the amenities you'd find in a corporate boardroom. Whether it's a formal meeting or an informal company gathering, these suites are fully equipped and can seamlessly become your office at any time, even after hours.
Leadership is essential. Now that you've got the culture, the tech tools and a location ironed out, your goal of collaboration needs a champion. The leader acts as a guide to teaching those who don't understand the dynamics of collaboration, encouraging the process of sharing ideas and rewarding the end result.
Aristotle once said that the whole is greater than the sum of its parts. True collaboration can achieve greatness by tapping into the power of the "whole," even in a diverse workforce that is spread out across varied locations.
Crown Center Executive Suites offers a complete range of office suites that are sure to suit your needs. Our meeting rooms can include all the equipment and technology you need to get the job done, including LED plasma TVs, whiteboards, speaker phones, coffee bars, flexible booking options and professional onsite staff to assist with any of your needs. Our package pricing makes the Crown Center Executive Suite meeting rooms not only perfect for your unique needs but available at an affordable price.
Contact us today for a tour!
This blog was originally posted in March 2018 but has since been updated. 
Recent articles