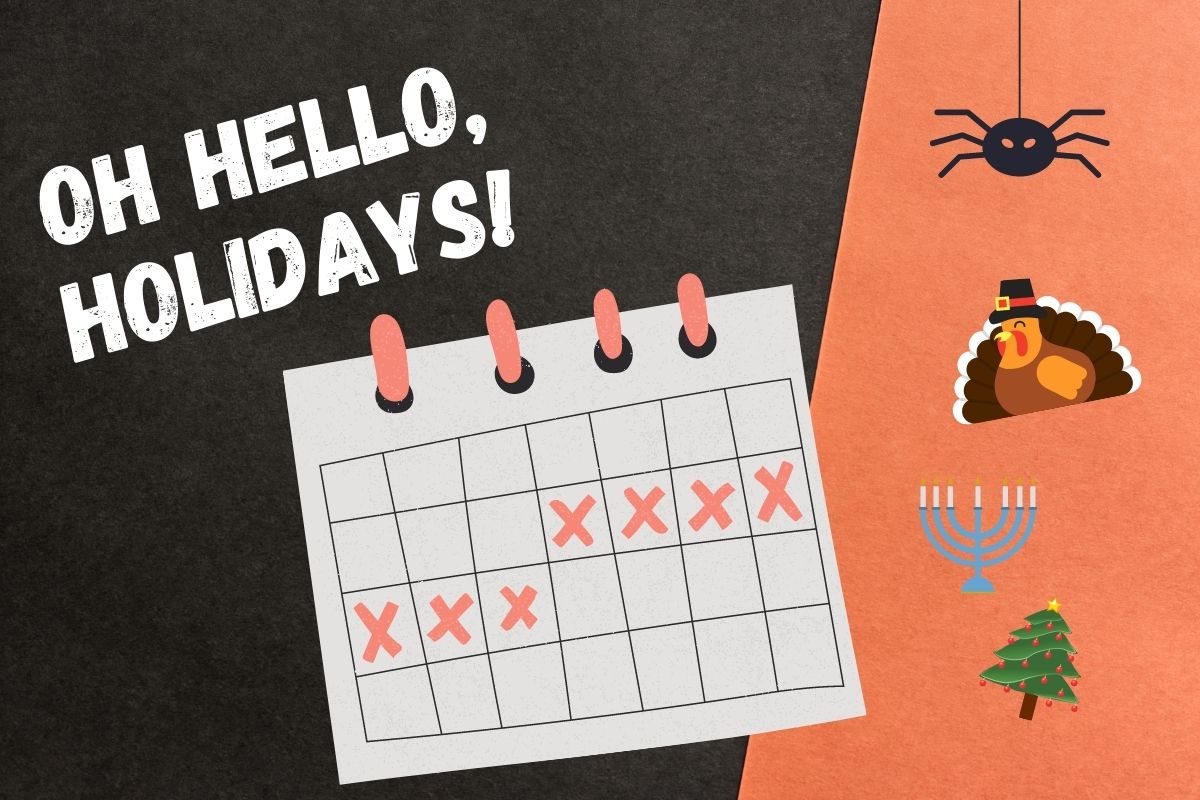 Pre-Holiday Productivity Tips
The holidays are upon us. It inevitably becomes a season of rushing, added professional and personal obligations, and tighter deadlines. There are some pre-holiday productivity hacks that can help our holiday season start off strong and end more peacefully. (That sounds good, doesn't it?)
If the holidays are notoriously stressful and less than productive for you, here's your chance to reset the pattern and optimize your productivity during the holidays and all year long! The truth is, the holidays are not the best season of the year for many Americans, as the statistics show:
According to a recent poll by the American Psychological Association, up to 69% of people are stressed by the feeling of having a lack of time around the holidays.

People find the holidays to be stressful in their personal lives due to family drama, broken relationships, grief, or a sense of loss for loved ones who are no longer around. 

Business leaders and employees have the added pressure of dealing with holiday promotions, employee time off that increases workloads for others, and end-of-the-year reporting rigors – just to name a few of the challenges that pop up during the holidays for your business.
Four Tips To Get Productive Now For A Smoother Holiday Season
Take Fewer Meetings
Meetings can be great for syncing up on projects, collaborating on new ideas, or creating connections. They can also tax your overall productivity. When things are especially stressful during the holidays, you can limit your meeting time with a few good strategies, such as:
Company-wide no meeting zones.
Use of tech tools like Slack, Asana, and Google Suite that can facilitate quick questions, create transparency and visibility with regard to project status and support the execution of tasks.
Standing meetings that allow for short but frequent updates and less long, drawn-out sessions.
Take Advantage of Services That Save Time
From grocery delivery to online gift shopping, you do have the ability to make your life easier. Explore ways to take some of the burdens off your to-do list during the holiday season especially, but possibly all year long.
Stay Focused on Tasks at Hand
It's easy to get distracted at this time of the year. Last-minute gifts, personal engagements, and lots of days off can derail you from your productivity very easily. Avoid the urge to shop online or plan personal events during your work time. Stay focused in blocks of time to get work done and plan to do your personal things on personal time. This structure will help you avoid the stress and frazzled feelings that often come with the holiday season.
Find the Right Workspace for Your Needs
If you are one of the many workers still operating from a kitchen table desk in your home, you know how hard it can be to stay on task on any given day. Add to that mix, the pressures and rigors of the holiday season as well as kids, spouses, and out-of-town relatives, and you'll be lucky if you get anything done. This is where creative workspaces like those found at Fort Lauderdale's Crown Center Executive Suites can save the day.
Crown Center Executive Suites offers a bevy of options to help you create the perfect working environment during this holiday season and beyond. Cost-effective, state-of-the-art and fully-staffed workspaces are only a few of the benefits of exploring Crown Center. Stop by for a tour and check out everything we have to offer, such as:
Office Space and Executive Suites

Meeting Rooms

Day Offices On Demand

Virtual Offices

Shared Offices

Dedicated Desks
Start working now to make this holiday season less stressful. It all begins with your workspace! Contact Crown Center Executive Suites to find your perfect workspace today! 
Related articles
Recent articles