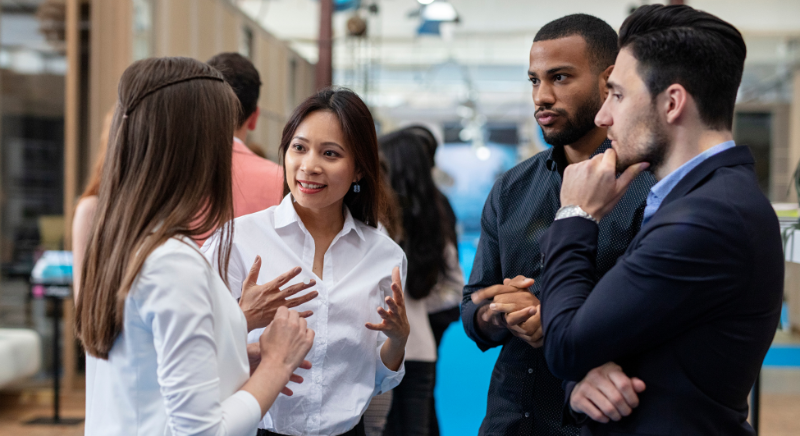 Networking 101 – The 2023 Version
We all know the old adage about "It's not what you know. It's who you know." Well, the essence of that has changed in recent years for a range of reasons.
In case you missed it, we live in the age of influencers. And, in 2023, it's more about who knows you. This mindset shift applies not only to online places like social media platforms, where influencers do the bulk of their influencing but also to "old school" networking. 
---
Step-by-Step Guide to Networking 
Be able to articulate what you do.

It's the question that will inevitably come up at every single networking event without fail. When someone asks, "So, what do you do?" You need to have a succinct, clear and confident answer on the ready. You'd be surprised

how many entrepreneurs and experienced professionals

find this part challenging. 
Here's a few tips for creating a good elevator pitch:

Write it down in advance.

You don't want to sound like you are robotically reciting something, but you don't want to have practiced it a few times so it rolls off the tongue.

Keep it short and sweet.

One to two sentences should accomplish the answer to the question of what you do. Of course, follow-up questions or meetings can dive deeper.

Try a template sentence.

Many

brand consultants

teach their clients to create a value sentence like I provide (this) to (my audience) so they can (experience this benefit/result).
Make a connection first. A common mistake that networkers make is to network too hard. Of course, this is where it gets a bit nuanced. But in 2023, networking is about making connections, creating partnerships and exploring "collabs." So, be sure to explore small talk, get to the person, make a real connection and let the networking happen organically.
Find the good networkers in your network. We all know them. The people are natural networkers. They usually are so good at it that they help others do it. Tap into the powerhouse networkers in your group and let them imbue you with some of their knowledge (and at the same time, have them hook you up with any aligned connections they have for you).
Don't let it all go to waste. It's easy to get swept up at the moment and get lots of business cards, but what happens after the networking event is the key. Be sure to drop a line to those connections you make and keep the conversation going.
Be sure to connect on LinkedIn. Chances are that the person you met had a stack of business cards too. A great way to put a face to a name and show of your experience is with LinkedIn.  
LinkedIn Pro-Tips: 
Make sure your profile is up to date.

Do this work ahead of time.  You don't get a lot of chances to put your whole resume in front of a prospective client so be sure that you are highlighting your experience. 

Invitations to connect should be accompanied by a message. You are building a relationship. An invitation to connect is the equivalent of a tap on the shoulder. A message says inspires conversation. And that is what you want when it comes to networking!
Set the space. Even if you don't have an office space of your own, you can still be a master networker. Flexible workspace centers, like Crown Center Executive Suites, can provide the perfect backdrop for a group, one-on-one and virtual networking initiatives. 
Crown Center Executive Suites has a wide range of flexible, professionally-appointed workspaces that can serve as your networking hub, either in real life or virtually. Stop at Crown Center, centrally located in Fort Lauderdale for a tour and find the fit that works best for your needs. 
At our state-of-the-art facility, you'll find:
Executive suites

Shared offices

Dedicated desks
Related articles
Recent articles