Cost-Effective Solutions for Small Businesses: The Value of The Executive Suite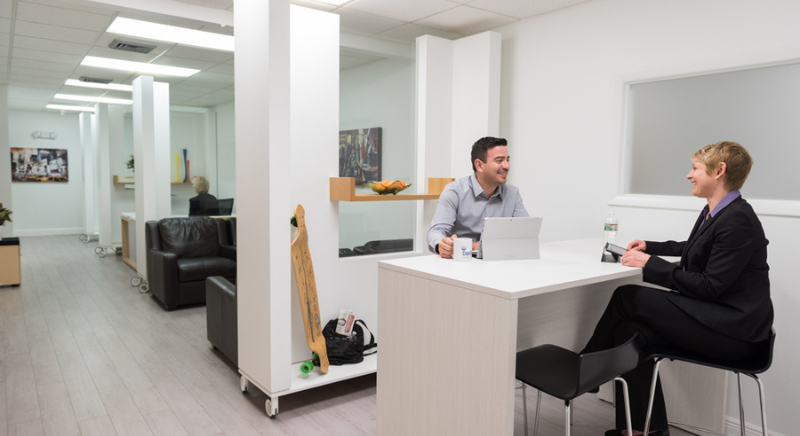 In our current business landscape, small businesses have been facing numerous challenges when it comes to setting up and maintaining a physical office space. The burden of long-term leases, high overhead costs and limited flexibility can be daunting, especially for startups and entrepreneurs.
However, a game-changing solution has been gaining popularity among small businesses in recent years – flexible workspace options such as executive suites. Let's explore how executive suites can provide cost savings, flexibility, and valuable resources for small businesses compared to traditional office leases.
Before the pandemic, most people in these spaces were entrepreneurs, freelancers, or other "gig" workers. But now, more and more remote workers are setting up shop. (Axios)
Weighing in on the Benefits of Flexible Workspaces 
The Challenges Flexible Terms of Executive Suites Can Solve 
One of the main attractions of executive suites for small businesses is the flexibility they offer regarding constrictive agreements. Unlike traditional office leases that typically tie businesses into long-term commitments, executive suites often allow businesses to rent on flexible terms. This flexibility enables small businesses to adapt to changing needs, scale up or down as required and minimize the risk of being locked into a lease that no longer suits their financial needs.
This flexible workspace can also allow businesses to test different locations and office setups, allowing them to find the optimal space without making a long-term financial commitment. Whether you are a startup with unpredictable growth or an established business with fluctuating office space requirements, executive suites can be a valuable solution to your office space challenges.
According to a recent JLL report, the office sector remains under pressure in 2023, with tenants not only looking to increase efficiency and productivity but also to reduce their existing footprint and positively influence their bottom line. – CoworkingCafe
The Perks of Office Space on Demand
Executive suites are designed to provide a turnkey solution for small businesses, offering furnished and equipped office spaces on demand. These spaces have essential amenities such as high-speed internet, phone lines, meeting rooms and communal areas. By opting for an executive suite, small businesses can eliminate the need to invest in costly office furniture and equipment, streamline the setup process and save time and money.
Another perk of the executive suite is the professional option of administrative support services. From receptionists to administrative staff, these services can be shared among multiple businesses, allowing cost sharing and providing small businesses with access to professional support without the expense of hiring full-time employees.
Money-Saving Tips for Small Businesses
Executive suites offer several money-saving advantages that can significantly impact a company's bottom line.
Shared Overhead Expenses: Executive suites allow businesses to share common areas such as kitchens, lounges and conference rooms, reducing the burden of maintaining and managing these spaces individually. By sharing these overhead expenses with other businesses in the same executive suite, small businesses can achieve considerable cost savings.

Utilities and Maintenance: Most executive suites include utilities and maintenance costs in their fees. This means that small businesses can avoid the hassle of setting up and paying separate utility bills, further reducing their administrative workload and expenses.

Scalability: Executive suites enable businesses to scale up or down as needed, avoiding paying for unused or excess space while optimizing their budget and resources efficiently.
Entrepreneur's Guide to Workspaces
For entrepreneurs and small business owners, selecting the right workspace can significantly impact productivity and overall success. Executive suites offer an ideal workspace solution that caters to the unique needs of entrepreneurs. Here are the unique opportunities that flexible workspaces can offer:
Networking Opportunities

– A chance to interact with other businesses that rent space

Professional Image

– Even for small businesses, a professional image for clients, customers and employees

Focus on Core Business

– Creates space for the business to focus on operations, sales and marketing, not commercial lease overheads.
Executive suites offer cost-effective and flexible solutions for small businesses seeking an ideal workspace. With workspace flexibility and low commitment levels, small businesses can thrive in a supportive and professional environment without the burden of high overhead expenses.
As entrepreneurs continue to explore innovative ways to scale their businesses, executive suites remain a valuable option that provides the ideal balance between cost savings and productivity. Whether you are a startup or an established small business, considering an executive suite may be the key to unlocking your business's full potential.
Crown Center Executive Suites supports small businesses as they look for creative ways to collaborate with their suite neighbors and grow their businesses – even on a small budget. Our state-of-the-art executive suites are fully-equipped, professional and the perfect place for you to launch your collaborative marketing efforts. 
Recent articles