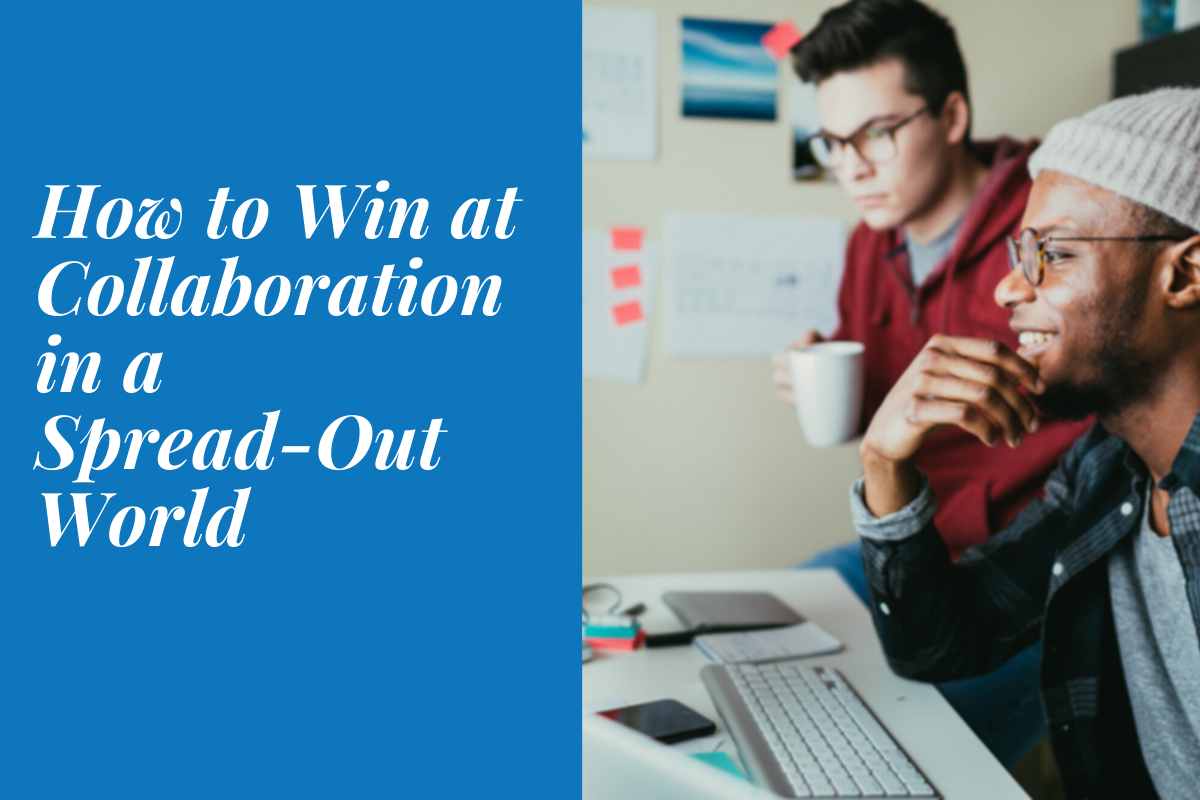 Have you heard the saying, 'The more things change, the more things stay the same'? One thing our business community has in common is the desire to improve continually. While we focus on progress, seek new processes and technologies, sometimes, we forget some of the past's timeless lessons.
In March of 2018, we wrote about How to Win at Collaboration in a Spread-Out World because emerging technology was fostering a more global work environment.
Little did we know that in August of 2020, we would be relying on it. While the principles we talked about are still valid, we've given our ideas a few edits to keep up with the times. 
How to Win at Collaboration in a Spread-Out World
Collaboration can be the secret sauce that takes your company to the next level. Effective collaboration can innovate your design work, your marketing campaigns, your product offerings, and your customer experience.
The challenge in today's freelance-driven, global work-environment is facilitating collaboration over time zones, area codes, and even language barriers.  According to Telework Research Network, between 2005 and 2011, the number of remote workers had climbed 60% from 1.5 million to 2.4 million, and the remote working trend is continuing upwards.
In 2020, the majority of us have worked remotely and will, in some fashion, continue to do so through 2021. Check out the results of this Workplace Sentiments Survey, published by CBRE, a leading researcher in commercial real estate and workplace trends. 
We've learned that it is possible to achieve collaborative success by following a few key collaboration tips:
LESSONS IN COLLABORATION TO HELP YOU SUCCEED:
You can still knock on doors, remotely. Trying to schedule meetings with remote teams is easier than ever.  The option to knock on a co-worker's door for an impromptu meeting can still exist with tech tools such as Facetime, Zoom, or Microsoft Meeting. "Knock, knock – do you have a second to discuss a new idea?" is possible, even if it happens via a computer screen.
Cultivate a culture to foster collaboration. Any list of collaboration tips has to address culture. Culture, team spirit, and comradery will help facilitate successful collaboration, whether the workforce is remote or sharing the same space. Although developing cultures in teams that are spread-out may pose some challenges, many companies are finding creative ways to overcome boundaries through technology and onsite events that support a strong culture and, ultimately, collaboration.
TIP: Besides the Zoom Happy Hours, how about a chat group for your team members? Make a point to start a non-work-related chat string once a week. Ask for a favorite quote, ask people to share a healthy lifestyle tip that works for them or a favorite productivity hacks.  
Set up a location that works. More often than not, our workspace is not only our living space but we are sharing it with our significant others, kids, or pets. While you may not need a full-time office to get the job done, you probably need some type of professional space. Businesses, HR teams, and workspace planners are looking for flexible workspace options.
Our clients have found that using a meeting room or an office space at a consistent location is helpful for them. By using one location, it provides a sense of familiarity and creates a sense of place that we are all craving right now.
Crown Center Executive Suites offers professional short-term office space rentals, meeting rooms, and a large training room that can be utilized for many purposes with all the amenities you'd find in a corporate boardroom. Whether it's a formal meeting or an informal company gathering, these suites are fully-equipped and can seamlessly become your office any time, even after hours.
Leadership is essential. Now that you've got the culture, the tech tools, and a location ironed out, your goal of collaboration needs a champion. The leader acts as a guide to teaching those who don't understand the dynamics of collaboration, encouraging the process of sharing ideas, and rewarding the end result.
Aristotle once said that the whole is greater than the sum of its parts. True collaboration can achieve greatness by tapping into the power of the "whole" even in a diverse workforce that is spread out across varied locations. We are here to be part of your team and a business solutions provider.