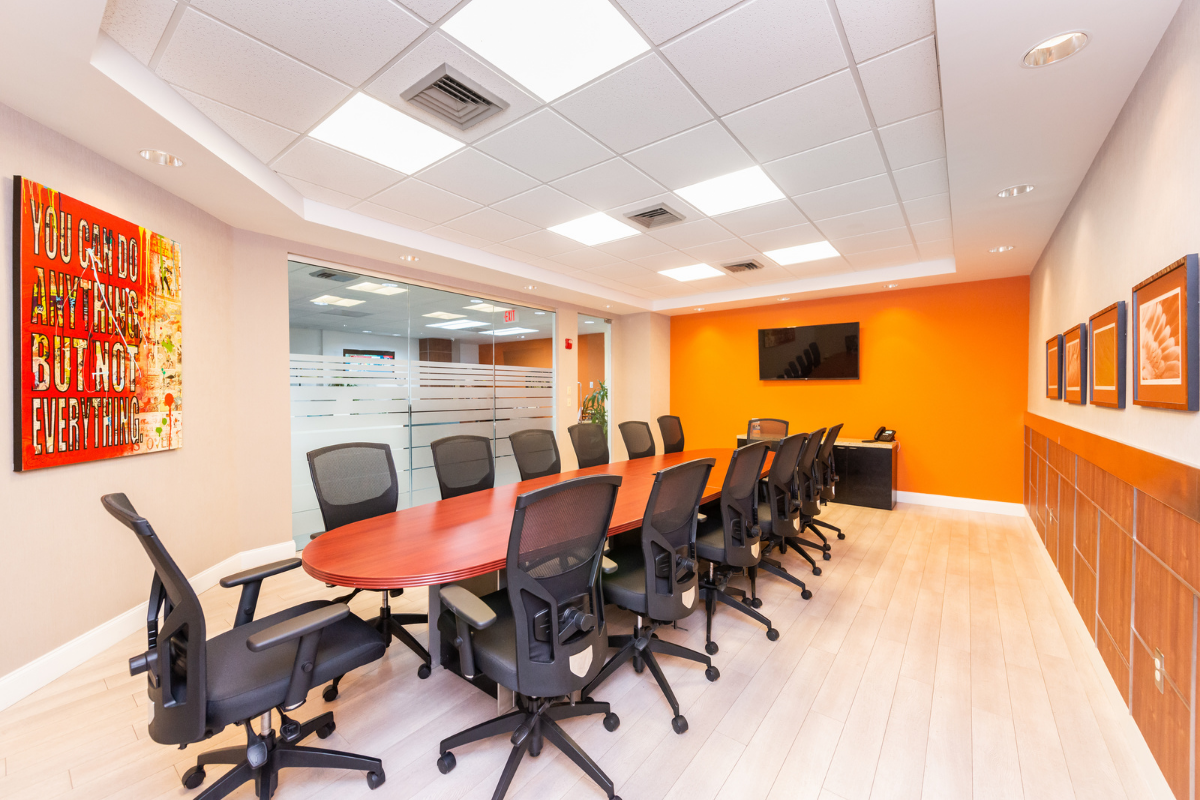 Tips To Help You Choose The Best Meeting Room For Your Business
2022 brings the energy of "hitting the ground running" and "getting things started with a bang." If you feel the push to move your business objectives forward in Q1 of 2022, you are not alone. And, if you are booking a meeting room to help you sync up with your team, impress your clients or meet any other objective, there are a few criteria worth considering before selecting your meeting room.
Whether you need a conference hall, conference room, or meeting room, Crown Center Executive Suites is your go-to training center in the Fort Lauderdale area. Not just that, but we've compiled the guide you need to help you make the best decision for your business and support those big goals for 2022!
 Before we dive in, let's explore who meeting room rentals can be perfect for: 
Freelancers who work from anywhere and need a place to hold a professional meeting.

Speakers or professional coaches that are hosting a presentation and need a conference hall or meeting room.

Solopreneurs that occasionally require the use of space on demand. 

Corporate trainers or recruiting professionals who have to conduct interview sessions in well-appointed meeting rooms.

Geographically spread-out businesses that need to host board or corporate retreats that require meeting rooms.
Questions To Answer Before You Book Your Meeting Room
1. Are there hidden costs that I should pay attention to?
Let's talk numbers. Before signing any contracts, you need to figure out the cost of the meeting room, — and, more importantly, the hidden event planning costs. In addition to the actual conference room rental rate, look out for added costs like:
Setup and strike fees
Access to power
Taxes
Service fees
Tips
2. Is your meeting room going to fit your size requirements?
It's vital that you communicate your size needs and make sure that your meeting room can accommodate you. You don't want to have your team crammed into a space that is too small. Alternatively, you don't want to have a tiny group in a room that is too large.
3. Does the meeting room convey the professionalism you seek?
Your choice of a conference room is a reflection of your brand. Be sure to pay attention to the ambiance and professionalism of your meeting room. You'll want to take note of things like:
Inventory of office supplies, paper products, etc.
Good lighting both inside and outside the building.
Accessible and safe parking situation.
Modern amenities – common area usage, business services.
Health and safety measures related to the pandemic and beyond.
4. Does the meeting room make your life easier?
(Answer, it should!) Assess whether your meeting room offers flexibility in its configuration. Check out things that offer needed conveniences, like easy-to-navigate-to location, onsite management, and online scheduling. These things can save you time, money and reduce frustrations.
Do you know what amenities to consider? Not all amenities are needed, but it's a good idea to define a list of those you need and make sure that your meeting room has them for you and your group. Some amenities to consider include:
Grounds and building options like 24/7 access to the building, bike racks, etc.
Kitchen items like catering, coffee/tea, filtered water.
Technology considerations like filming abilities,  printer/scanner/copier availability, projector, TV/monitors, video conferencing abilities.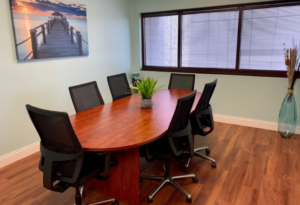 Crown Center Executive Suites, conveniently located in Fort Lauderdale, is the choice of many savvy businesses who need a meeting space that exceeds their expectations. Crown Center Executive Suites makes meeting easy with affordable and convenient conference rooms with flexible configurations that suit your unique meeting room needs. From big to formal meeting to informal, your business gathering will find its place at Crown Center. Our amenities list is almost guaranteed to cover your bases with options such as: 
Spaces for groups of four to 45 people.

Friendly staff to give your meeting attendees a professional greeting upon arrival.

Flexibility to book by the hour, day, or week.

LED Plasma TVs, whiteboards, and speakerphones.

Access to our Community Lounge with complimentary coffee and tea.

Free parking, convenient location, online booking, and so much more!
Contact Crown Center Executive Suites to find your perfect meeting room today! 
ARTICLES RELATED TO HYBRID WORK
Additional Blogs To Help You Run Effective Meetings
Recent articles